Description
Yonex Osaka Team Racket (290g) Gold/Purple
For entry-level to recreational players looking for a reliable racquet. A luxurious and powerful design with patterns of dragons and cluster amaryllis created by Naomi and Mari.
First, the sisters considered their childhood, where their mother visualized the duo as dragons. After all, dragons represent great power, good luck, and strength.
Mari began sketching the dragon and found that a spiritual spider lily would complete the design. The spider lily also represents strength and beauty because "the power of a woman is that she can combine the two," said Mari. Then came the color selection: gold and purple, a luxurious blend for power and ambition.
"The dragons represent an unwavering, fighting spirit," said Mari. "I hope the racquet gives Naomi strength and confidence every time she steps on the court even when I'm not with her."
"It was an incredible experience to make my and Naomi's vision come to life with the team at Yonex," Mari added. "I really enjoyed the process and hope that anyone who uses our racquet will find their inner strength to play at their very best."
Yonex Osaka Team Racket (290g) Gold/Purple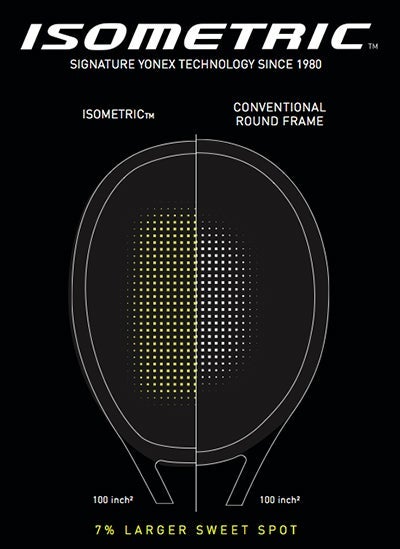 7% LARGER SWEET SPOT
Developed over 30 years ago, the ISOMETRIC™ design increases the sweet spot by 7%*.
Compared to a conventional round frame, a square-shaped ISOMETRIC™ racquet generates a larger sweet spot by optimizing the intersection of the main and cross strings.
ISOMETRIC™ technology delivers greater control without sacrificing power.
Yonex Osaka Team Racket (290g) Gold/Purple
Specifications
Head Size 100 sq.in.

Length 27 in.

Weight 290 g / 10.2 oz

Balance Point 320 mm

Beam width: 22 mm - 22 mm - 22 mm

Material: GRAPHITE COMPOSITE

Tension Range: 45-55 lbs
String Pattern: 16x19
Payment & Security
Your payment information is processed securely. We do not store credit card details nor have access to your credit card information.