Description
[Yonex Arc Saber 7 Tour Badminton Racket]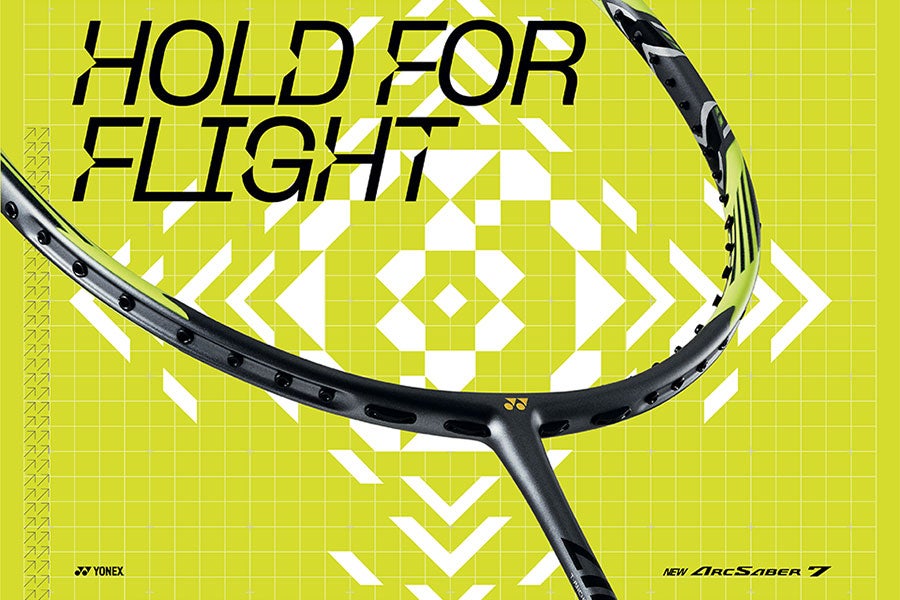 The acclaimed ARCSABER series designed for control adds to its line up with the brand new reimagined ARCSABER 7, allowing for further flight trajectory. The new ARCSABER 7 is designed for optimal flex and torque to improve precision targeting for intermediate and advanced players. Taking control of the court can come in all different forms, and for the ARCSABER, it comes from the extra few milliseconds of shuttle contact time allowing assertive, precise shot-making.
---
[Yonex Arc Saber 7 Tour Badminton Racket]
SPECIFICATION
Flex: Medium
Frame: HM Graphite / POCKETING BOOSTER
Shaft: HM Graphite
Weight / Grip Size:  4U (Avg. 83g) G5, 6
Stringing Advice: 4U: 19 - 27 lbs
Colour: Gray/Yellow
---
 [Yonex Arc Saber 7 Tour Badminton Racket]
PRODUCT TECHNOLOGY
Super Slim Shaft
The slimmest racquet ever produced by YONEX vastly reduces air resistance whilst providing maximum feel.
ISOMETRIC
ISOMETRICTM technology continues to help the world's greatest players achieve global success. Developed over 30 years ago, the ISOMETRICTM design increases the sweet spot by 7%*. Compared to a conventional round frame, a square-shaped ISOMETRICTM racquet generates a larger sweet spot by optimizing the intersection of the main and cross strings. ISOMETRICTM delivers greater control without sacrificing power. ISOMETRICTM is a Trademark of Yonex CO., LTD.
POCKETING BOOSTER
The frame is lined with POCKETING BOOSTER, a proprietary rubber-like material emphasizing elasticity in the frame's flex.
BOX Frame
The extra stiff profile provides a solid stable feel on impact with the shuttle

New Built-in T-Joint
The lightweight T-Joint increases stability of the shuttle on the strings, maximizing power and control.

T-Anchor
A new composite material T-ANCHOR used in the T-joint helps reduce excess torque when hitting an off centre shot.
Energy Boost CAP PLUS
Uniquely shaped cap which maximizes shaft performance.The front allows the shaft to flex, while the sides arch-shaped curve stabilizes the racquet face by preventing the shaft from twisting.
Enhanced ARCSABER Frame
Control with confidence through this unique frame structure with varying levels of flex from top, sides, to bottom, built to increase shuttle hold while reducing instability and twisting at impact.
Payment & Security
Your payment information is processed securely. We do not store credit card details nor have access to your credit card information.